Tejashree Pradhan and Shashank Ketkar Marriage Photos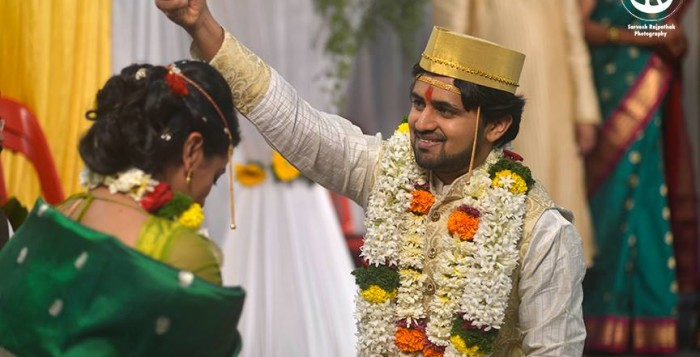 As we know ZEE Marathi serial Honar Soon Mi Hya Gharachi captured audience's attention specially House wives's. This serial is very very popular in every age group and got huge success. Viewers liked the chemistry between Shri and Janavi , One must say the clean acting good chemistry between lead actors is the reason behind the success of this serial. Viewers like this couple in reel life but also in real life as well. All people wanted to see Shashank Ketkar(Shri) and Tejashree Pradhan(Janavi) as real life partner. So guys hold on your breath, here is a news for you. Our favorite couple Shree and Jhanvi got married in real life too on February 8.
Actresses Suhita Thatte , Rohini Hattangadi, Leena Bhagwat, Supriya Pathare, Purnima Talwalkar and Smita Sarawade who play actor Shashank Ketkar's mothers in the daily soap 'Honar Sun Mi Ya Gharchi' attended his real life wedding with his on screen wife Tejashree Pradhan.
Photos :
* Image Courtesy – Rajpathak Creation Studios
Tags:
tejashri pradhan marriage photos, janvi and shree real wedding, janhavi hd imges, janhavi shree divorce reason, janhvi shree, Www tejsri pradhan, janvi shrii marathi imege blogspot, photos of janhavi pradhan, pradhan name hd image, real life janhavi and shree,